Staff Selects: Christmas Movies
Not everyone is fortunate enough to celebrate this Valentine's Day with a loved one, so indulge us, if you will, and share in our celebration of a different holiday – one that reminds us of the power of joy (and capitalism). This week, our staff highlights some of our favorite Christmas movies: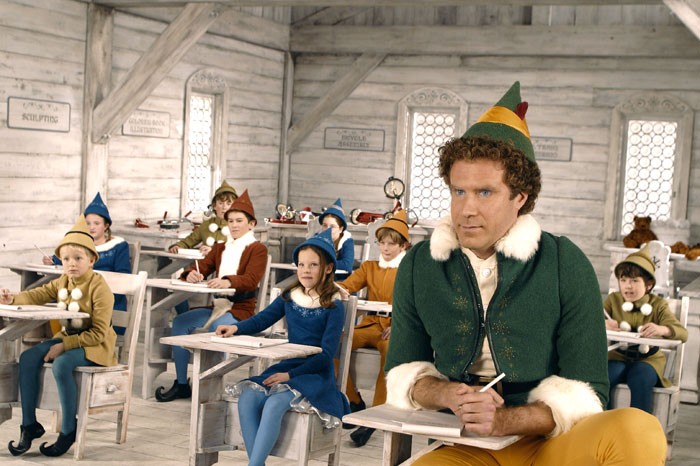 Though I don't really celebrate it, Christmas is by far my favorite holiday. I love the songs and the decorations and the candy canes and the cold weather and snow and the way we've managed to turn a holiday celebrating the birth of a major religious figure into a celebration of commercialism, but most of all, I love Elf. My understanding of what Christmas is, or at least the things I picture when I think of Christmas, and to a certain extent, my love of New York City, all stem from Jon Favreau's 2003 classic, and it remains one of the most endlessly rewatchable movies and one I am always willing to watch at any time of the year. It's the film that has shaped at least part of every trip I've taken to NYC (and made the security guards at the Empire State Building mad at me) and the one that pops into my head every time I see an ice rink. It's the film that had me thinking 'Pennies From Heaven' was a Christmas song until last year and the one that made me decide to try syrup on my pasta more than once. Elf is among the films that have been most impactful on my life, and it will always reign supreme among Christmas movies. [Henry Baime]
---
I love Christmas. The season, the songs, the cold weather, the storefront advertising, the corny people who put antlers on their car – I'll take all that garbage. But when it comes to Christmas movies, I don't have clear favorites. I'm more lenient on the category as a whole – I'd rather watch a bad Christmas movie than a bad regular movie – but aside from childhood favorites I'm scared to revisit (The Santa Clause does not hold up, FYI) or the ubiquitous classics (and I've already written about It's a Wonderful Life on this very site), there aren't any I really hold dear.
So I'm going with Gremlins, a movie I haven't seen in well over a decade, but still have a fondness for. Gizmo is adorable, Phoebe Cates was a young crush of mine, and I just love a good set of rules. The film inspired the name of one of my favorite post-rock groups (Mogwai), it helped the MPAA implement the PG-13 rating, which was a blessing in my youth, and I can still hum Gizmo's little song, despite not having heard it in ages, so its significance in my life goes well beyond its 106 minutes. [Kern Wheeling]
---
To me, the best Christmas movie ever is none other than the Arnold Schwarzenegger led 1996 classic, Jingle All the Way. It's the perfect encapsulation of what the joyous holiday has become: a celebration of mass commercialism. Released one year prior to Batman & Robin, the two films served as the closing chapter to golden-age Arnold. While the charismatic Austrian Oak has some enjoyable films in the following decades, it has arguably been downhill since then. Jingle is a yearly tradition of mine, and I make sure to pop my Blu-ray copy in every Christmas season. A timeless pre-Black Friday innuendo-filled comedy that reminds us of a simpler time when children were only connected to one piece of technology: the television – a conduit of obsession that many eager-eyed innocents are brainwashed into craving the next big hunk of plastic through. In this case, a Turbo-Man doll! Remember when toys were a thing? Jingle All the Way does, and what sells as a comedy to the youth undoubtedly resonates as a relatable nightmare to grown adults and every workaholic parent who ever made their child a simple promise. So, "put that cookie down" and give it a watch or rewatch! [Lee]
---
When I was a kid, a movie that my brothers and I would always watch regardless of the time of year was the 2000 version of How the Grinch Stole Christmas. The movie is insane as far as visuals and Jim Carrey's performance go, but it is undeniably entertaining and a perfect holiday watch. The tale is a Christmas classic and has been recreated for the big screen a few times. The almost sickly sweet live-action adaptation illustrates the tumultuous tale written by Dr. Suess about a hateful Who's quest to ruin Christmas for the rest of Whoville. Jim Carrey puts in a notable performance as the unhinged Grinch whose only companion is his dog, Max. This one is a childhood favorite for me but I arguably love it more as an adult because of its clever writing. It doesn't hurt that it's narrated by Anthony Hopkins too. [Dani Ferro]
---
Watching Krampus is somewhat of a yearly tradition for me (sometimes I cheat and watch it around Halloween too). It's an incredibly mean-spirited romp, with a plot hinging on the indifference towards the spirit of Christmas from a very dysfunctional family. Essentially, they get punished throughout the film because of this very derision they have towards each other and Christmas, which is just insane and unlike any other holiday movie I've ever seen. It's so entertaining, and never gets old. [Vincent]
---
Christmas has always been my favorite day. Not only because it's the time where I get to reunite with my entire, big family, but also because of the number of classic holiday films that I get to binge with my family for days. Though several movies like Elf, Christmas Vacation, and Gremlins come to mind, Home Alone will always be my number one choice when it comes to Christmas time. There's a lot of appeal to Home Alone. First, it's eternally rewatchable at any time of the year. Second, the sense of humor caters to both children and adults. But mostly, it's the film's portrait of how important a family's presence is to a child that makes it even more enduring. Home Alone really is a movie that had a huge impact on me as a child. [Reyzando Nawara]
---
The best adaptation of Charles Dickens' beloved novel "A Christmas Carol" is a hotly debated topic among cinephiles when the time for candy canes and ornaments comes along, so here's the final answer: the superior filmed version of "A Christmas Carol" is the one with Gonzo and Rizzo as the narrators. The Muppet Christmas Carol, the first Muppets project to be released after the death of Jim Henson, is an artfully crafted recreation of the original story that hews close to the novel – despite Scrooge's underling Bob Cratchit being played by a frog.
What The Muppet Christmas Carol does so well is it revives the emotions of the story and the message while supplying its own holiday spirit in the form of the chaotic Muppets. Michael Caine is a perfect Scrooge, and the songs (including "When Love is Gone", which was unjustly cut from the theatrical release) elevate the material. It's a deeply heartfelt, generous film that understands the meaning of Christmas in a way other adaptations just haven't been able to capture. It's not a hollow recreation, but a loving tribute and a reminder to love each other. [Cole Duffy]
---
Every year, the world's most insufferable people get together to yell about how Die Hard is a Christmas movie. It's a meaningless discussion made from hyper-masculine hetero men trying to get out of watching something sweet on Christmas with their wives before they have loveless sex. But I'm not hyper-masculine, and nobody will love me, so I'm going to be an even bigger asshole and talk about Lethal Weapon. While it's hard to watch a movie starring Mel Gibson with the same love as when the film came out, Richard Donner's seminal buddy cop movie is, like all great Shane Black-penned scripts (so everything but The Predator), set at Christmas. But where Die Hard is a movie about trying to reignite a loveless and neglectful marriage, reinforcing ideals about the holidays as a time to buckle down and endure with your family you just don't love anymore, Lethal Weapon is about building new families with your friends to heal wounds. Riggs and Murtaugh make their own family, and so can you at the holidays with this superior yuletide action flick. Suck it, McClane. [Davey Peppers]
---
Alright hear me out; I was really expecting this to be a favorite romance week, and I am too stubborn to change my answer. So here is why Portrait of a Lady on Fire is a Christmas movie: As everyone probably knows, red and green are traditional Christmas colors. Our two leads wear red and green for most of the movie, rendering them incredibly festive. Héloïse (Adéle Haenel) has recently left a convent at the beginning of the film, and she and her lover discuss hearing music in a church. These clear mentions of Christianity imply that Christmas is celebrated in some way by these characters, even if not during the film. There's a subplot revolving around a young maid who is pregnant, at an age where she is assumed to be a virgin. This can be tied as a parallel to the virgin Mary, especially where she reaches out and holds the hand of a small toddler. Christmas has grown capitalistic over the years, so the scenes where the lovers share gifts like tobacco and books are fairly festive as well (not to mention the inherent holiday warmth of singing around a bonfire). Portrait of a Lady on Fire begins a rollout across US theaters starting Valentine's Day, and is clearly a Christmas movie (because I said so). [Sarah]
---
Arguably the first true slasher film, 1974's Black Christmas established several genre conventions that would eventually be streamlined by John Carpenter in Halloween. Following a group of sorority sisters being terrorized by threatening phone calls, it's a simple premise that works so well. The first act takes its time to develop these characters, especially our protagonist Jess.
Before the near uncanny valley feminist angle that the 2019 remake applied to the story, Black Christmas had such an appeal to it as well. These sorority members are being preyed upon, yes, but they aren't fools. They make good decisions and look out for each other to the best of their ability, and are never objectified for any kind of male audience. There's even a subplot involving our protagonist leaving her boyfriend after an argument over an abortion, Jess taking control of her own body and ridding herself of the person who seeks to have control over her. It all makes for interesting drama, but the horror is really what you're here for. There's a procedural element to it that slashers of the time didn't have, the third act a tense cat-and-mouse game between the police and the sorority members trying to catch the killer, and the killer staying one step ahead. The ending is also absolutely haunting. A great one to watch with the kiddies under some blankets by the fire! [Jen]
Staff Selects adele haenel arnold schwarzenegger batman & robin black christmas christmas christmas vacation die hard gremlins halloween home alone how the grinch stole christmas jim carrey jim henson jingle all the way john carpenter jon favreau krampus mel gibson michael caine phoebe cates portrait of a lady on fire richard donner shane black Staff Selects the muppet christmas carol the santa clause