Academy in Review: The 1980s
Like so many other billions of people, quarantine life has led me to find something to do, and I've settled on watching every single Best Picture nominee from all 92 years of the Academy Awards. And for fun, we're gonna be reviewing every decade to look back at the highs and lows throughout the years of Oscar glory. Which classics took home the top prize, and which ones never got the chance to rise from their seats and say "I'd like to thank the Academy…"?
Ah, the 1980s. Crimping hair and Reagan were in, and the genuinely challenging American cinema of the previous decade was out. It was a particularly bland decade for mainstream cinema in retrospect, one that preferred middle class bourgeois taste. From 1980 to 1989, the common thread was that almost always the safest possible choice won. Let's take a look at the nominees themselves first:
Top 5 Best Picture Nominees of the 1980s
Raging Bull (1980) – Martin Scorsese's best film is this scorching hot biopic full of rage and violence, and it represented the final gasp of New Hollywood auteur cinema before its collapse due to a series of financial bombs. Despite winning Best Actor for Robert De Niro and Best Film Editing for Thelma Schoonmaker, it lost the top prize to Robert Redford's family drama Ordinary People.
Amadeus (1984) – The only true masterpiece this era to win Best Picture, Miloš Forman's fictionalized biopic of Salieri and Mozart is a grim and provocative achievement that takes a peek into the lives of two of the greatest composers that ever lived. Amadeus was the clear favorite at the 57th Academy Awards, taking home 8 Oscars, including Best Picture and Best Director. 
Raiders of the Lost Ark (1981) – Steven Spielberg's glorious adventure film might have been the biggest hit of the year, but this critically acclaimed old-fashioned story of action and mystery failed to win any above-the line prizes, with Chariots of Fire ultimately beating out Reds in a shocking upset. Despite the shut-out in major categories, the film is still a classic to do this day for good reason: a more perfect popcorn movie is difficult to find. 
Kiss of the Spider Woman (1985) – Hector Babenco's film about a tough revolutionary  and a sensitive gay man learning to understand and tolerate each other while locked up in a Brazilian prison during the military junta won praise for being an in-depth exploration of love and life choices that uses a touch of camp to maximum effect. While the film won Best Actor for William Hurt's performance, it ultimately lost Best Picture to the historical epic Out of Africa.
Moonstruck (1987) – When Cher and Nicolas Cage fall in love, that's amore! The widely praised and wildly successful romantic comedy charmed audiences with its simple yet tender tale of Italian-Americans in Brooklyn, with a bittersweet and magical edge to it. The film ended up winning big at the 60th Academy Awards, including Best Actress for pop goddess Cher and Best Supporting Actress for Olympia Dukakis, but in the end it lost Best Picture to Bernardo Bertolucci's gorgeous epic The Last Emperor. 
Honorable Mentions: Missing (1982),  A Room with a View (1985), Hannah and Her Sisters (1986), Broadcast News (1987), Dangerous Liaisons (1988)
Bottom 5 Best Picture Nominees of the 1980s
Chariots of Fire (1981) – Every prediction said that Reds, Warren Beatty's epic political love story set in 1920s Communist Russia, would take home the top prize. It seemed poised to, especially after Beatty's win for Best Director, but the shock filled the room as the limp and lifeless film about two British runners participating in the 1924 Olympics was announced as the winner by presenter Loretta Young. Ultimately, the film only lives on in public memory due to the iconic synth-heavy musical score by Vangelis.
Rain Man (1988) – Time has not been kind to this Best Picture winner, as its depiction of an autistic man as a savant has garnered more than enough justified criticism over the years. Pauline Kael most memorably called Dustin Hoffman's Oscar-winning performance "humping one note on a piano for two hours and eleven minutes." All in all, it's a very dated film that acts like a dull Lifetime TV movie that somehow managed to sneak into theaters and win several Oscars. 
The Accidental Tourist (1988) – William Hurt starred in 5 Best Picture nominees during this decade, but this Lawrence Kasdan-directed dramedy about a travel writer who falls for a manic pixie dream girl after his wife leaves him is by far the worst of them. A truly awful script restrains Hurt, Kathleen Turner (who is saddled with a memorably terrible monologue), and Geena Davis' Oscar-winning turn from achieving any level of greatness. It's an unfunny, undramatic slog with no sense of energy or direction.
The Big Chill (1983) – We're not done with Lawrence Kasdan yet. His other Best Picture nominee from this decade is perhaps the ultimate Boomer material: a bunch of young 30-somethings meet up at the funeral of a friend who committed suicide to discuss their lives and complain about their lost hopes and dreams. Despite an all-star cast including William Hurt, Glenn Close, and Jeff Goldblum, it's a miserable bore akin to listening to Trump supporters moan about how bored and unhappy they are. 
Places in the Heart (1984) – This story of a rural widow during the Great Depression who fights to keep her family and home together is embarrassing for a variety of reasons. First, its white savior narrative involving Sally Field and Danny Glover is out-dated and dull. Second, its unearned sappiness is so suffocating it threatens to rot away all the enamel in your body and replace it with sugar cane syrup. Finally, Sally Field's speech for winning Best Actress is so infamously cheesy  it derailed her career for four years. 
Dishonorable Mentions: The Dresser (1983), A Passage to India (1984), Out of Africa (1985), Driving Miss Daisy (1989), Field of Dreams (1989)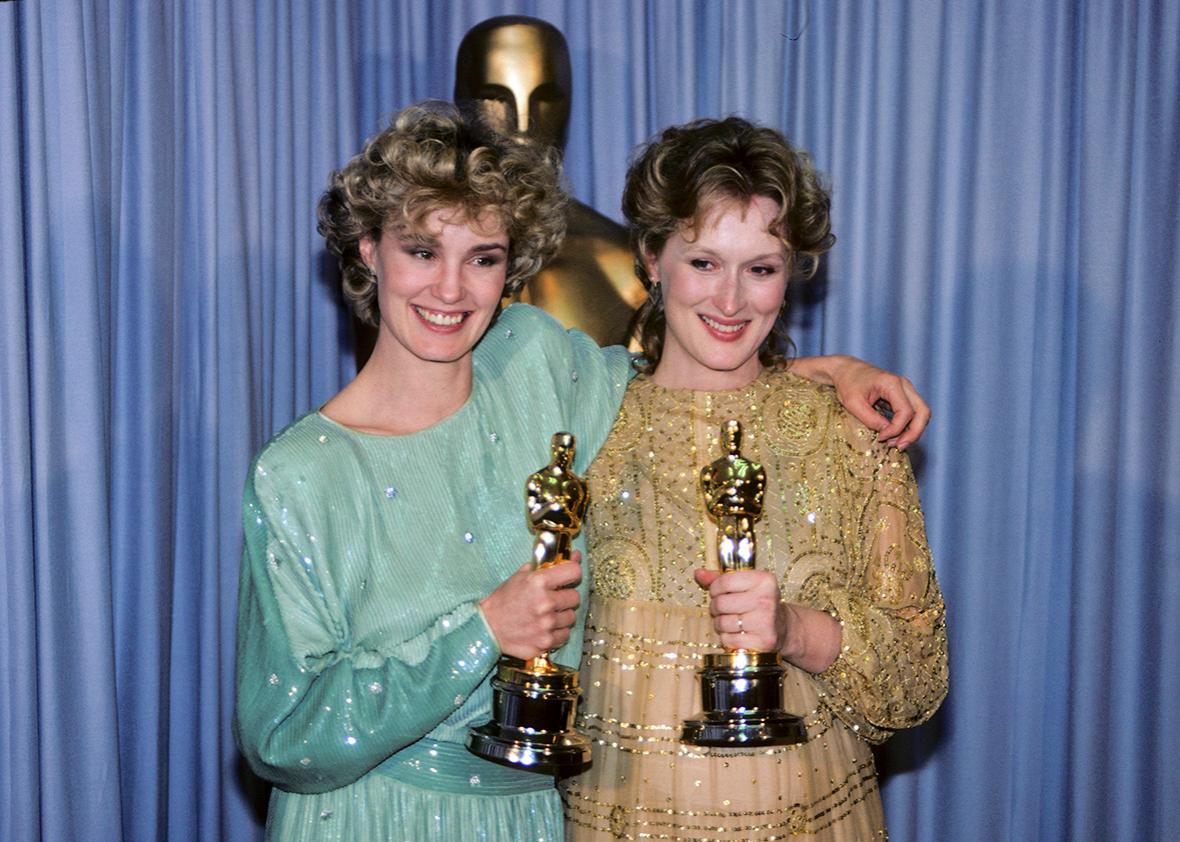 Oscar Trivia: 80s Edition
The decade's most nominated director was Woody Allen, who was nominated three times for Hannah and Her Sisters (1986), Broadway Danny Rose (1987), and Crimes & Misdemeanors (1989). He failed to win any of them.
The decade's most awarded director was Oliver Stone, who won twice for his Vietnam war dramas Platoon (1986) and Born on the Fourth of July (1989). They were his only nominations in that category this decade.
The decade's most nominated Best Actress was Meryl Streep, who received a stunning six nominations for her work, ultimately winning once for Sophie's Choice (1982). Close on her heels are Sissy Spacek and Jessica Lange, who both received four nominations apiece, with Spacek winning for Coal Miner's Daughter (1980). Lange also received a win for Supporting Actress for her role in Tootsie (1982).
The decade's most nominated Best Actors were Paul Newman and William Hurt, who were both nominated three times. Newman won for The Color of Money (1986), while Hurt won for Kiss of the Spider Woman.
Driving Miss Daisy is one of only four films to win Best Picture without a directing nomination. The most recent film to accomplish is ironically also a story about racism set in the South during the 1960s: Green Book. 
The Last Emperor was the decade's most awarded film, winning 9 Oscars out of 9 nominations. The UK-Italy-China co-production, which was the first Western film to shoot in the Imperial City, won Best Picture, Director, Adapted Screenplay, Original Score, Sound Mixing, Art Direction, Cinematography, Costume Design, and Film Editing. Its sweep was even disparaged by some television critics as "anticlimactic".
The highest grossing Best Picture nominee of the decade was E.T. the Extra-Terrestrial (1982), which made over $619 million dollars. The highest grossing Best Picture winner was Rain Man, which made over $354 million dollars.
Johnny Carson hosted the ceremony three times in a row, more than any other host that decade. He hosted in 1980, 1981, and 1982.
The most embarrassing moment all decade might belong to Rob Lowe, who starred in an agonizingly painful 11 minute dance number fiasco with Snow White, dozens of glittery dancers, and excessively gaudy sets that recreated Hollywood landmarks. The production was universally hated, and Disney even sued the Academy for violation of copyright by including Snow White in the routine. Here's a link to the disastrous opening: https://www.youtube.com/watch?v=9mronRVvdmw
THEY DIDN'T WIN? THEY WEREN'T EVEN NOMINATED?
Sigourney Weaver – They could nominate her for Aliens (1986), Working Girl (1988), and Gorillas in the Mist (1988), but the sci-fi queen has yet to receive love from the Academy in the form of a win. 
Tom Cruise – One of Hollywood's biggest stars was nominated for his work in Born on the Fourth of July (1989), but he lost in a surprise to a little known-actor named Daniel Day-Lewis, who won his first (of three) Best Actor Oscars for My Left Foot (1989).
Glenn Close – Despite providing some of the most memorable performances of the 1980s in hits like Fatal Attraction (1987) and Dangerous Liaisons (1988), she has always been the bridesmaid, never the bride. 
David Lynch – America's most belovedly weird director was on the Academy's radar, as proven by Best Director nominations for The Elephant Man (1980) and Blue Velvet (1986), but neither he or any of his films won an Oscar this decade. Not only did The Elephant Man go 0-for-8, but the lack of an award for the makeup used to turn John Hurt into the titular character caused such an outrage the Academy created a new category: Best Makeup & Hairstyling, which was first awarded in 1982. 
Blade Runner (1982) – Despite being the blueprint for decades of science-fiction films to come after it, the film only received nominations for Best Art Direction and Best Visual Effects. It lost both categories, while Ridley Scott and Vangelis were not even nominated for their stellar work. 
So in conclusion, the 1980s were full of big hairdos, big shoulder pads, and big winners. It was a middling decade in quality of overall winners, but many of these films have continued to charm the public over the years, and will continue to do so.
Next up: grab your disco balls and cocaine, because we're heading to the 1970s!
Retrospective 1980s a passage to india academy awards academy in review aliens amadeus bernardo bertolucci blade runner blue velvet born on the fourth of july broadcast news broadway danny rose chariots of fire cher crimes and misdemeanors dangerous liaisons daniel day-lewis danny glover david lynch driving miss daisy dustin hoffman e.t. the extra-terrestrial fatal attraction field of dreams geena davis glenn close gorillas in the mist green book hannah and her sisters hector babenco jeff goldblum jessica lange kathleen turner kiss of the spider woman lawrence kasdan loretta young martin scorsese milos forman missing moonstruck nicolas cage oliver stone olympia dukakis ordinary people oscars out of africa paul newman places in the heart platoon raging bull raiders of the lost ark rain man reds ridley scott robert de niro robert redford room with a view sally field sigourney weaver sissy spacek steven spielberg the accidental tourist the big chill the color of money the dresser the elephant man the last emperor thelma schoonmaker tom cruise tootsie vangelis warren beatty william hurt woody allen working girl
21, born and raised in Boston. Mamma Mia wine mom personality. Jerry Gogosian of the film world.