The Love of the Father: Fathering in The Royal Tenenbaums and The Meyerowitz Stories (New and Selected)
{Written by H. R. Gibs}
The role of the father in cinema, as in life, is an important one. Often depicted in unhealthy terms or through two-dimensional gormlessness, the internal motives of the father character can so often be restrained to a simplistic moral leaning of "good" or "bad". In Richard Curtis's 2013 film About Time, the main love story in the film is between the main character Tim (Domhnall Gleeson) and his eccentric father (Bill Nighy). In Hunt for the Wilderpeople, Sam Neill's disgruntled character learns how to care for his foster child after the death of his wife. These fathers, in the multitudes, depict a specific relationship in fathering one child. The father, as placed in a family dynamic, is a different beast altogether. In Wes Anderson's The Royal Tenenbaums, it is the return of the estranged eponymous character that is the catalyst for the entire film. When Royal (Gene Hackman) returns to the family home after living in a hotel for 22 years, it is under a myriad of deceit and the guise of terminal stomach cancer. Due to this, his ex-wife calls their adult children home in an attempted reconciliation. In Noah Baumbach's The Meyerowitz Stories (New and Selected), it is another difficult father (Dustin Hoffman) and his, this time legitimate, illness that brings another three adult siblings together. Whilst there is a push to portray the individual in modern day society looking to write their own destiny and cut loose from the ties of their family, these films show that this is much easier said than done. 
Wes Anderson's distinctive staging and character introductions show disunity in the Tenenbaum family from early ages. Royal's three children; Chas (Ben Stiller), Richie (Luke Wilson), and the adopted Margot (Gwyneth Paltrow), strive for perfection in a subversion of childish and adult traits. As young children, each is driven and hardworking at their chosen craft – Chas is a businessman, Richie a world class tennis player and Margot a promising playwright. As adults, when the film begins, each sibling has fallen into their own brand of depression. Margot shrouds her life in secrecy, taking pleasure in having little known about her life. Richie is at sea, recovering from a very public breakdown after discovering that Margot (whom he is in love with) is engaged. Chas, traumatised by the death of his wife, tunnels all his strategic energy into being overprotective of his sons. As in all Anderson's films, the disharmonious-ness of life is not completely blamed on the parents, but they do play a role, particularly the father. 
Chas' feelings of inferiority stem from his father's preference of his young brother Richie. This theme of the favourite child is also explored in The Meyerowitz Stories. Whilst also set in New York, Baumbach's city is more realistic in setting but still as prestigious and competitive as Anderson's. The story begins with divorced and unemployed Danny (Adam Sandler) moving in with his retired artist father Harold. His own daughter is a film student and they enjoy a close relationship, alluding to the type of relationship Danny would like to have with his own father. However Harold and Danny communicate through passive aggression and sporting analogies. Harold often vocally compares Danny to his younger half-brother Matthew (Ben Stiller) who is a successful financier. It is perhaps a little meta to note that Stiller, acting in both films, plays the golden boy Matthew Meyerowtiz and underappreciated Chas Tenenbaum therefore experiencing both ends of this fathering spectrum as two different businessmen. Whilst Danny was a very talented pianist when he was young, he did not pursue his musicality as a career. Harold sees this as a failure that has nothing to do with him but subscribes Matthew's business savvy to his own fathering skills. In actuality, Harold bounces the brothers off each other creating a chasm between them and the open Danny is often shunned by the uptight Matthew.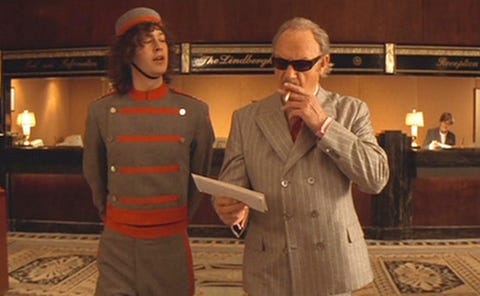 Like in The Royal Tenenbaums, the favourite child, although resented by his siblings, buckles under the pressure of his father. Richie's breakdown, although a direct result of his love for Margot is heightened by his father's dishonesty. In turn, Matthew Meyerowitz, in seeking his father's approval, resents his preference for art over money. Matthew's goal is to beat his father but Harold refuses to play the same game fairly. In truth, both Royal Tenenbaum and Harold Meyerowitz are selfish men wanting to be seen more as individuals than as fathers. Where Royal is redeemed throughout his film, Harold must only be understood by his three children. Harold's flaws are revealed increasingly throughout the film, as he openly criticises other characters who act as he has done and as contrasting characters explicitly apologise for their previous actions. At one point, Harold's second wife and Matthew's mother Julia (Candice Bergen) tells Harold that she regrets not being a better mother to her stepchildren, whilst Harold never recognises any faults of his own. As a man who is bitter because he cannot stop his decreasing relevance in the world around him, Harold evokes some sympathy, but as a father he does not.
When it comes to characterisation, faults that can be written off as human in an individual are not looked at in as forgiving a light when it comes to fathering. In The Meyerowitz Stories, Harold's inability to listen to his sons' successes without feeling envious is seen as immaturity whereas the same trait is praised in Matthew when it pushes his ambition. Danny, on the other hand, who as a man is viewed as lazy and lacking in conviction, as a father is loyal and comfortable to give up his own ambition to support his daughter. When Harold falls ill, the estranged brothers must exist in close proximity for the first time. In the space their now bedridden father took up, the brothers struggle to communicate through their own interruptions and hurts. In the confrontations that follow, the brothers not only fight each other but their father's traits within themselves. Matthew begins to reassess his compulsive competitive nature and Danny sees his placidity as a tool used by others to walk over him.
In both The Royal Tenenbaums and The Meyerowitz Stories, the role of the sister as an outsider is explored. Whilst in both films, the brothers struggle for their father's approval, the sisters remain just out of sight of the main narrative. Royal Tenenbaum always introduces Margot as his adopted daughter, alienating her from the family unit. His dismissal of her early work as a playwright gives way to her habit of keeping secrets. If her actions are rejected either way, why should anybody be privy to them? Her elusive nature and knack for remaining undiscovered allows Margot to develop a 22 year smoking habit without anyone realising as well as run away from home, find her biological family, get married and have copious affairs. Anderson's use of hyperbolic flourish here highlights the importance of paying attention when it comes to fatherly love. By contrast, Jean Meyerowitz acts as a present mediator between her brothers and their father throughout the film. As the men in her family butt heads, Jean's silent devotion to her daughterly duty is explicitly picked up on only later in the film. She notes here that "although he never took care of us, [looking after your parents is] what you do". 
The Meyerowitz Stories is more hopeful in its approach to sibling relationships, as Jean's second reason for "showing up" for their father is she enjoys spending time with her brothers. As the three grow in closeness, Jean opens up about a traumatic experience in her past highlighting her trust in these new men in her life. By contrast, Margot Tenenbaum's escapades were sought out, rather than offered up, showing the distinct lack of trust not only in her parental family but within her marriage. Where Margot is the crux of the closure needed within The Royal Tenenbaums, Jean's role is more of that as a safe foundation on which The Meyerowitz Stories can build a sibling solidarity. Jean's truth-telling therefore, is her way of letting go of her father's failings and putting her trust in her newfound connection to her brothers.
In both these films, due to the hurt caused by their fathers, the characters keep their children away from their grandfathers. Danny's close connection with his daughter Eliza is based on being as unlike his own father as possible. However, as a grandparent, Harold's bitterness is transformed. Eliza gives him validation for his own art and sends him her sexually charged film school movies for feedback. It is Eliza who goes in search of Harold's lost work whilst Matthew is adamant to sell it. In The Royal Tenenbaums, after learning about how overprotective Chas is of his sons, Royal takes them on an adventure committing acts of petty crime. Despite the rage that follows, Royal's connection with Chas' children matters to Chas who has so often felt unseen by his father. Like Danny Meyerowitz, Chas' close proximity and constant monitoring of his sons is inspired by acting the opposite of his own father. By contrast, Matthew Meyerowitz follows his father's pattern of resorting to running away from his young son under the selfish guise of not being ready for fatherhood. 
If Jean's closure can be found in her assurance of her brothers, Matthew's acceptance comes in a public display of emotion. Going ahead with a tribute art show in honour of their father in hospital, Matthew makes a speech about a piece named after him. Whilst he finds solace in a false memory of helping his father make the artpiece, he comes to terms with his anger and regret in pushing to sell Harold's art, saying, between sobs "I was trying to catch up with him, but I never did; I'm still his son". In his final onscreen conversation with his father, Matthew thanks him for letting him be a part of his artistic process, crediting the confidence he has to do his job to this early faith in his ability. Harold undercuts this moment with a painful bathos which reveals the piece he so attributed to Matthew was made years before he was born. Matthew simply points out that the much disputed art piece should have been called 'Danny'. The discomfort with his own mistakes, selected memories and refusal to see his children as they are, are all flaws that Harold does not grow out of. However, his children grow around it. 
Whilst preparing for his death, the siblings fail to plan for how they will approach their relationship if their father survives his hematoma, which of course, he does. In The Royal Tenenbaums, following a fall-out of both Royal and Margot's deceits, the family is able to move on. Royal's terminal illness was a lie, but his death by heart attack some years later is the moment of reconciliation for Chas who is the only one by his father's side as he dies. By contrast, Danny Meyerowitz's closure as the underappreciated son is in his decision to walk out from under his father's shadow. Harold is dismissive of Danny until he hints at not being in town. In choosing to visit Matthew in L.A. instead of looking after his father, Danny is able to reconcile, not with Harold but with his brother. Harold, on the other hand, doomed only to praise the son who is not in his immediate presence, is thrown off by the idea of constant Danny's departure. In their final conversation, Danny whispers the mantra the doctor had advised in the intensive care unit  "I love you, I forgive you, forgive me, thank you, goodbye". This pointed sentiment, emphasised by a zoom into Danny's face shows his preparation for his father's inevitable death (whenever it may be) and a forgiveness for the hurt caused within this relationship.

Both The Royal Tenenbaums and The Meyerowitz Stories show the awkwardness that comes with reconciliation with a difficult father. The isolation felt by neglected children is mended by their adult selves through sibling solidarity in both films. To see the patriarch as a man as well as as a father requires an adult perspective and whilst somethings can never be fixed, they certainly can be forgiven. Royal's redemption in finally letting go of control of his ex-wife and learning to love his children where they are is reflected as closure as he dies at the end of the film. However Harold Meyerowitz's stubborn refusal to change is also depicted in his apparent staunch refusal to die. The love of these fathers is as difficult as their every interaction with the world around them. They both struggle to let go of their own idea of self in order to invest in their children and struggle to communicate their feelings of isolation in raising a family. However, despite appearances, both these films heartily conclude, there is fatherly love there, it just takes a new and selected perspective to see it.
Essays about time adam sandler ben stiller bill nighy candice bergen domhnall gleeson dustin hoffman gene hackman gwyneth paltrow hunt for the wilderpeople luke wilson noah baumbach richard curtis sam neill the meyerowitz stories new and selected the royal tenenbaums wes anderson