There is no greater titan in documentary filmmaking than the Bay State's very own Frederick Wiseman. Born in Boston and raised across the river in Cambridge, Wiseman's directorial career in film started with the infamous Titicut Follies (1967), a film banned in Massachusetts for decades because it highlighted the horrific treatment of psychiatric patients at Bridgewater State Hospital. For the past fifty plus years, Wiseman has been a surveyor par excellence of institutions. He goes into every crack and crevice you can think of, leaving no stone unturned; no office unexamined. Whether it's a state hospital for the mentally ill, a zoo, or a public library, Wiseman is fascinated by institutions and what makes them tick. It's only fitting that his career comes full circle with his latest, an enormous four and a half hour immersive study of Boston's city government.
Shot in 2018 and 2019 (with clear markers of time that anyone from the city would recognize), City Hall begins in the bowels of the infamous Brutalist structure built in 1968 that serves as Boston's seat of city government, in a room filled with 311 operators. The phones are constantly buzzing and employees respond to each call; and the film ends here too. It's a never ending cycle of citizens asking for help and the city government responding in turn. In between the opener and the closer, Wiseman's still camera moves across the city, in and out of city hall itself. We're taken to a military veteran's ceremony in Faneuil Hall that turns somber with each tale of horrifying violence shared by the wizened vets; to Fenway Park to celebrate the Red Sox winning a world series title; to the Greater Boston Food Bank to gather and organize Thanksgiving meals for needy families. In one climatic scene, we visit a community meeting in Dorchester in which the Asian-American owners of a due-to-open cannabis dispensary square off with the residents of that community, who are primarily Black and brown. For every mention of how much money the dispensary will bring, there's (correct) pushback about the store deciding to rely on police to handle any problems.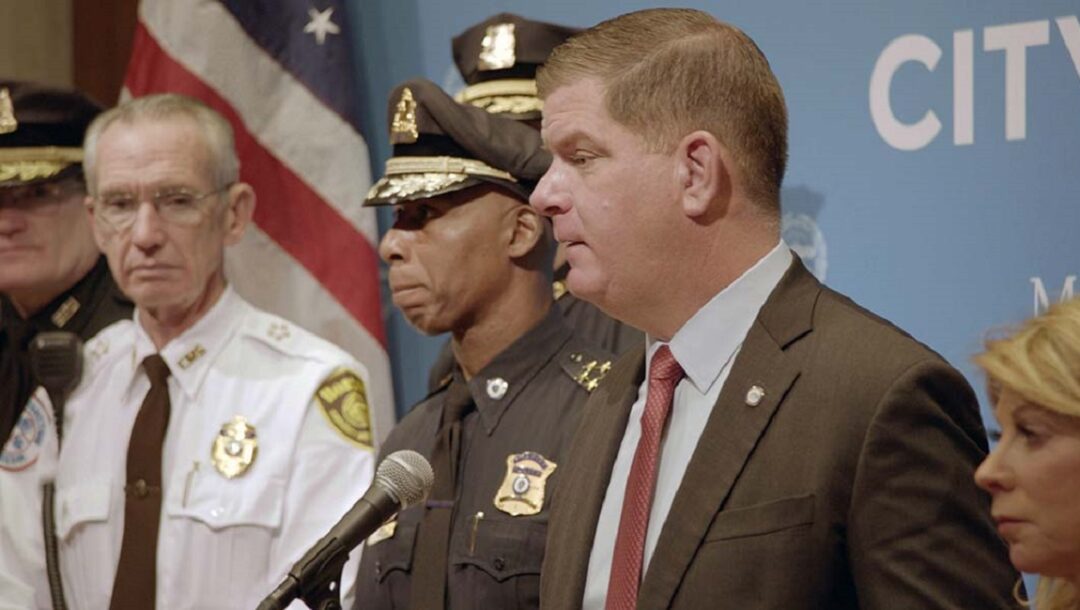 Bureaucracy is thrilling, and in this scene, the film explodes. Wiseman navigates the city of Boston with the knowledge that only someone who grew up around and in it would know. His lowkey style of filmmaking (no talking heads, no running narration, no music, who explanation of who appears on screen) brings the people to the front and center of the film. They're both walking stereotypes in Patriots gear and Dunkin' coffee in hand and as diverse as you would expect a majority-minority city to be. And while it's true that the current leader of Boston is a white Irishman, Mayor Marty Walsh tries to relate to every resident he encounters. Sometimes too hard, to relate to his constituents; yet his more genuine attempts to connect with the city he serves feel like a soothing balm, given the past few years. Wiseman has faith in systems when their leaders work to do their best, and the film reflects that.
Wiseman's belief in decency and goodness rests on Walsh being the anchor of the film, considering he's the only person we see in more than one sequence. At the veteran's ceremony, he shares his own struggles with alcoholism. It's a tender moment and deeply human. That's the secret to his whole career: the institutions Wiseman studies might be varying in size and importance, but the human emotions are always there underneath the surface. The conflicts make it richer and more developed: Walsh might be trying his best, but his repetitive boasts about Boston being so great for all citizens brush up against the harsh reality that people of color are still struggling to get a seat at the table.
In the wake of years of broken government and one of the ugliest election cycles in our history, City Hall believes in the best of us. Wiseman's optimism shines through, and in such a bleak and dark year, it offers the most potent bit of hope we can ask for. Despite the difficulties and the setbacks, Boston is trying its best. Wiseman has crafted an essential work, a document testifying to the power of democracy. From one Bay Stater to another: great job.
A
A Chicago International Film Festival Review 2020 city hall frederick wiseman titicut follies
21, born and raised in Boston. Mamma Mia wine mom personality. Jerry Gogosian of the film world.