Staff Selects: Most Anticipated of 2021
A selection of some of the films we're most looking forward to seeing this year. Or next year. Or whenever they finally come out. Hopefully this year.
Is there a part of me that wishes to have a more interesting most anticipated than putting a new Edgar Wright film on here by default? Sure, but my pick for last year's most anticipated film, the psychological horror film Last Night in Soho makes the jump to my most anticipated film of 2021 because I probably wouldn't be here writing this if I wasn't as energized and enraptured by Wright's previous five films as I had been. Few things bring me into hype overdrive like Wright's filmography, and I couldn't realistically say if I'm more excited for my first or tenth viewing of Last Night in Soho, as I can't see a possibility where the latter doesn't end up happening. – Davey
I have always loved a good monster flick. Seeing that first trailer for Antlers near the end of 2019 at film after film only got me more excited. It's a perfect tease for a movie, and the fact that Guillermo del Toro is producing makes it all the more tantalizing. A teacher (Keri Russell) and her police officer brother (Jesse Plemons, who seems to be in everything lately) become concerned for a young boy in her class only to find that he is hiding a creature of unfathomable horror in his attic that threatens to escape and terrorize the town. 
Moving from last April to this coming February before being taken off the calendar entirely, I'm still holding out hope to see it before the year is out. While I'm not extremely familiar with Scott Cooper I did enjoy Hostiles, so it'll be an interesting thing to see if any of the grit displayed in a western-historical epic carries over to a small town supernatural thriller. Hopefully this isn't a New Mutants situation where we're left waiting and waiting until it's unceremoniously buried in theaters behind some bigger project. Thanks for that, Nolan. – Jennings
Despite Antoine Fuqua's Jake Gyllenhaal-led remake of The Guilty being slated for this year, in addition to a Gucci biopic starring Adam Driver and Al Pacino, my most anticipated film for 2021 is none other than our old bearded flame, The Green Knight. Originally planned to release at South by Southwest on March 16, 2020 and later theatrically on May 29, COVID decided to swoop in and put a halt to life as we knew it—much like mystical giant Green Knight informing you of your inevitable beheading come one year's time. Now with a hopefully safe new release date of July 30, 2021, I'm very cautiously excited to see David Lowery's take on one of the most famous Arthurian tales. Albeit a small cast, I'm a fan of Dev Patel, Barry Keoghan, and especially Alicia Vikander—who feels like she has been absent since marrying fellow smokeshow Michael Fassbender. More often than not for me, A24 delivers, so hype has maintained its height since the first moody trailer and gorgeous poster reveal; thankfully it appears as if A24 aren't going to fail Lowery like they did David Robert Mitchell's excellent Under the Silver Lake. Additionally, as a big fan of fantasy, Dungeons & Dragon (yes, EIC Kern hosted a Green Knight board game campaign for a few of us), Lowery's gorgeously somber-looking version of Sir Gawain's unenviable quest to keep his honour, sheaths right into my wheelhouse of taste. I'm of the deposition demanding a return to more fantasy epics, medieval quests, sword & sandal adventures, and mythological adaptations in cinema. Where is my The Odyssey film, Mr. Petersen: it's been 16 years?! That said, come July, if COVID prohibits me from mounting trusty Gringolet and embarking on my quest to the Green Chapel, heads will be rolling.- Lee
Not much is public about Céline Sciamma's fifth feature, which finished shooting at the start of December. The film shares a name with the statue Petite Maman by feminist sculptor Louise Bourgeois, a large metal spider that towers over viewers, meant to represent the care of a mother. This seems to be the inspiration for the title, as Sciamma posted a photo of the sculpture back in 2017. With the Paris-set script written during confinement, the most that is known is that two child actors were cast as sisters named Nelly and Marion, a photo of the young actresses in capes by the same designer who had worked behind the scenes on Portrait of a Lady on Fire appearing when shooting wrapped. The film is said to deal with family bonds, perhaps continuing Tomboy's exploration of the relationship between sisters. Sciamma has said in interviews for her previous film that she has moved on from films about childhood, after her coming of age trilogy, and wants to fix how "you never see grown women falling in love", so it's surprising to see her working with kids again. This leads to a likelihood that the film focuses on motherhood, and is the story of both the young girls and their mother(s), and now that her characters have grown up, she's moved on to a second generation.- Sarah
A year ago, on my first night in London, holed up in the world's smallest hotel room, still recovering from a tiring day of flying and museum going, along with a couple pints of Guinness, I wrote the following:
"Sure, almost every James Bond movie that has come out during my lifetime, and frankly almost every Bond movie, has been disappointing on some level, but that doesn't have the slightest bit of influence on me naming No Time to Die as my most anticipated film of 2020. Despite it being the year Charlie Kaufman, director of one of my very favorite movies and writer of a few more, is presumably releasing his next film as writer and director, and despite, as I previously mentioned, most Bond films being let downs, if I could only choose one film to watch this year (which is of course a ridiculous premise, not in the least because I've already seen some fifteen 2020 releases, but it's what we're going with here), No Time to Die is the clear choice for me. James Bond was a huge part of what got me to start loving film and later to start looking at film critically. Some of my earliest memories are of watching Bond films with my parents and grandparents. At age twelve, my first full length film review was of a Bond film. Years later I came back to reviewing films only after a watch of the entire series in a week prompted some serious writing. Those films have always been there for me when I needed them and I love even the ones I kind of hate and I will certainly be the first in line for this next one and all that come after it."
A year later, a pandemic forced me out of the UK and pushed back the film's release date numerous times, always screwing me out of the money I spent preordering tickets, and somehow I still haven't even started my goal of rewatching all of the James Bond films (perhaps once again in a week long binge), but I've completed my set of the Fleming books and the Bond spirit is as intense in me as ever before. Whether this one comes out this year or we spend another miserable year mostly away from the cinemas, No Time to Die will be my most anticipated film until I finally see Daniel Craig in that gun barrel.- Henry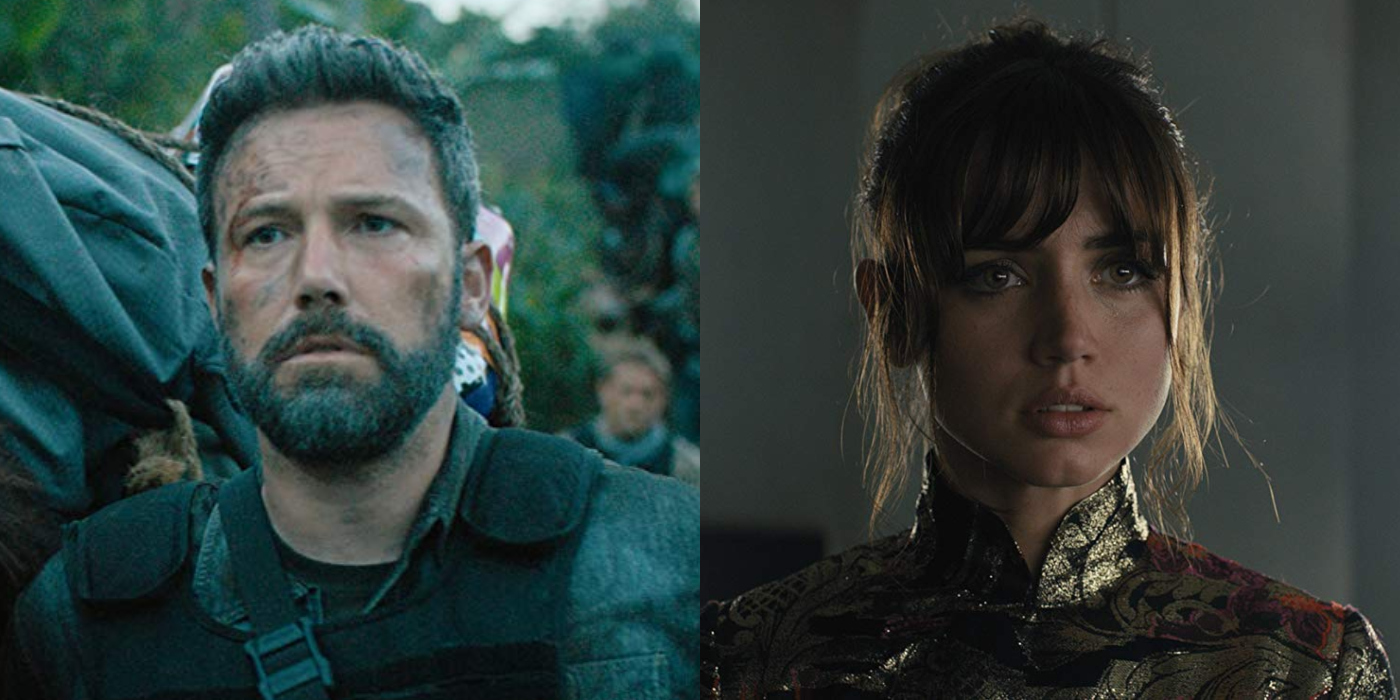 In theory, my pick should be Annette, the upcoming film from Leos Carax (Holy Motors), but English-language debuts from acclaimed foreign filmmakers are often lackluster in my eyes, so instead, I'm going with Deep Water. Incredibly generic title aside, the details about the film are fascinating. Real-life couple Ben Affleck and Ana de Armas play a married couple who "begin playing deadly mind games against one another." It almost sounds like a more sinister Who's Afraid of Virginia Woolf?, but the key ingredient that really piqued my interest is director Adrian Lyne. Not only is Lyne one of the masters of the erotic thriller (Fatal Attraction, Indecent Proposal), but he hasn't made a film in nearly 20 years. Add in the fact that it's co-written by Sam Levinson (Assassination Nation, Euphoria) based on a novel by Patricia Highsmith (Strangers on a Train, The Talented Mr. Ripley) and that Tracy Letts and Lil Rel Howery round out the cast, and I'm in! Lyne's sultry and often schlocky sensibilities will have either aged like wine or milk, but either way, it'll be a delight to watch! And who knows, maybe his return to filmmaking will see the revival of a long-dormant genre that he helped propagate in the '80s. – Kern
Note: Though Chris has not confirmed as much for us, we assume he still isn't excited for any upcoming films at this time.
Staff Selects adam driver adrian lyne al pacino alicia vikander ana de armas annette antlers antoine fuqua assassination nation barry keoghan ben affleck celine sciamma charlie kaufman christopher nolan daniel craig david lowery david robert mitchell deep water dev patel edgar wright euphoria fatal attraction gucci guillermo del toro holy motors hostiles indecent proposal jake gyllenhaal jesse plemons keri russell last night in soho leos carax lil rey howery michael fassbender new mutants no time to die patricia highsmith petite maman portrait of a lady on fire sam levinson scott cooper strangers on a train the green knight the guilty the talented mr ripley tomboy tracy letts under the silver lake whos afraid of virginia woolf