Staff Selects: Most Anticipated Films of 2020
Now that the dust has settled on the previous decade, we begin the new year by having our staff highlight their most anticipated films of 2020:
Whenever Kelly Reichardt releases a new film, it's a major event in the indie world (or should at least be treated as such). Her dedication to minimalism and realism makes her filmography a highlight of American indie cinema. Since her debut with River of Grass in 1994, she's been challenging festival audiences with her brand of neo-realistic filmmaking. Now in 2020, she's returned with First Cow, an adaptation of Jon Raymond's novel The High Life.
A period piece set in 1820s Oregon, First Cow revolves around Cookie Figowitz (John Magaro), a cook for a group of fur trappers who starts up a bakery with Henry Brown (Orion Lee), a refugee from China. The problem? The only milk in the Oregon Territory comes from the first cow in the area, owned by a wealthy man (Tobi Jones). If they want to run a bakery, they'll need to steal milk from the cow under its owner's nose. It sounds like the setup for a screwball comedy, but we'll have to wait and see if Reichardt goes in that direction or delivers something else entirely. Either way, we should be excited to see what she has in store for us. [Cole Duffy]
In theaters March 6th
---
I am a die-hard X-Men fan. Loved the cartoon when I was a kid, loved the films as a teen (my enjoyment of all but a few has severely lessened), and The New Mutants is one of the most promising films of 2020. Trust me, I'm sick of generic comic book movies too, but this one feels like a breath of fresh air in the making. The idea of a horror film with superheroes is such a great one, and still welcome despite Brightburn's disappointing execution of a great premise.
Beyond just the movie itself appealing to my tastes, I'm also excited that it's even coming out. This has been a passion project long overdue for The Fault in Our Stars director Josh Boone. After a great first trailer in 2017, it was sad to hear rumors of the film potentially being dumped on streaming after the Fox buyout in March of 2019, then seemingly gone from existence. Even if The New Mutants ends up being in the middle of the road in terms of quality, I guarantee a part of me will always admire Boone and the film for finally making it to the finish line. [Jen]
In theaters April 3rd
---
Sure, almost every James Bond movie that has come out during my lifetime, and frankly almost every Bond movie, has been disappointing on some level, but that doesn't have the slightest bit of influence on me naming No Time to Die as my most anticipated film of 2020. Despite it being the year Charlie Kaufman, director of one of my very favorite movies and writer of a few more, is presumably releasing his next film as writer and director, and despite, as I previously mentioned, most Bond films being let downs, if I could only choose one film to watch this year (which is of course a ridiculous premise, not in the least because I've already seen some fifteen 2020 releases, but it's what we're going with here), No Time to Die is the clear choice for me. James Bond was a huge part of what got me to start loving film and later to start looking at film critically. Some of my earliest memories are of watching Bond films with my parents and grandparents. At age twelve, my first full length film review was of a Bond film. Years later I came back to reviewing films only after a watch of the entire series in a week prompted some serious writing. Those films have always been there for me when I needed them and I love even the ones I kind of hate and I will certainly be the first in line for this next one and all that come after it. [Henry Baime]
In Theaters April 10th
---
Despite being lukewarm on Scott Cooper's other works, there's something about the trailer for Antlers that left me almost speechless. If there's anything that's consistent amongst Cooper's filmography it's a very grim sense of reality and a palpable darkness which seems to be used tenfold in Antlers. It's such a well crafted trailer, giving absolutely nothing away and only teasing you with very quick shots of some pretty horrific imagery. Its tone feels reminiscent to something like It Comes At Night, but much more ominous and cinematic. Going to a see a film where you have no earthly idea of where it could go seems to be so uncommon now, so I don't see how you couldn't be excited. [Vincent]
In theaters April 17th.
---
Charlie Kaufman is one of my favorite filmmakers, so this should be no surprise. Like Christopher Nolan, his work is cerebral and innovative, but unlike Nolan, he grounds his heady concepts with genuine pathos, making his films as emotionally resonant as they are psychologically demanding. Being John Malkovich, Eternal Sunshine of the Spotless Mind, and Synecdoche, New York all rank among my favorite films of all time – I was so astonished by Synecdoche, I saw three times in the theater. All of his work is insanely complex and intricately layered, which makes me even more excited for him to tackle something more genre-heavy – I'm Thinking of Ending Things is described as a psychological thriller/horror – though I'm sure it'll be about as straightforward of an adaptation of Iain Reed's novel as Adaptation. was of Susan Orlean's book about flowers. [Kern Wheeling]
Netflix hasn't set a release date, but previous reports indicate Q1.
---
Considering two of my top 3 films of the last decade were directed by Edgar Wright, it's not shocking that his newest film, Last Night in Soho, is my most anticipated film of 2020. There's always been something about Wright's films that's connected with me, this giddy trip through influences and beloved stories with adulthood and the rejection of those influences looming just out of the character's vision. I don't know if anything is scarier than that adulthood, but he and co-writer Krysty Wilson-Cairns (1917) are going to try with this mystery/horror flick. I highly doubt Last Night in Soho will be a film that redefines cinema, but if Wright keeps up his track record, it'll be the film that gets thrown on for friends night after night after night, and the possibility of having another film to add to that rotation is so appetizing to me. [Davey Peppers]
In Theaters September 25th
---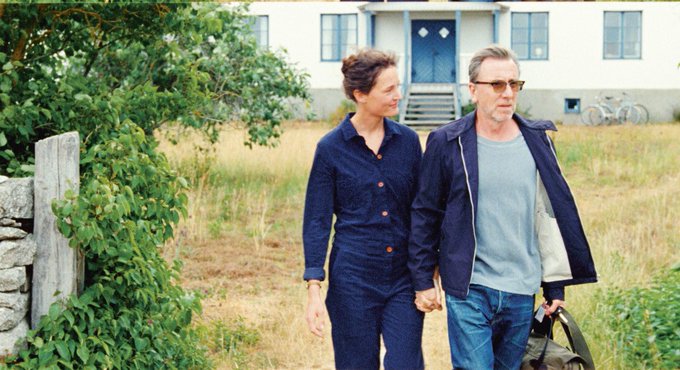 For the entirety of her career, Mia Hansen-Løve has touched on subjects that I'm drawn to the most: the passage of time and its complex relationship with one's growing process. Yes, it's certainly not something that hasn't been explored before (Hi, Richard Linklater!), but Hansen-Løve always finds ways to construct her narrative in a way that not only feels refreshing but also personal. Oftentimes, she confronts her characters with life-altering changes such as death, divorce, or break up, allowing her films to have more depth and a sense of universality through the way her characters navigate those changes. Her long-awaited next feature starring Mia Wasikowska, Vicky Krieps, Tim Roth, and Anders Danielsen Lie, Bergman Island, was said to be semi-autobiographical and drawn from her personal experience. She wrote the script in 2016 while she was on a visit with her ex-partner Olivier Assayas to the remote island where Ingmar Bergman lived. Knowing how skilled Hansen-Løve is at altering personal memories into captivating dramas with plenty of teachable moments, Bergman Island is surely the film that I'm anticipated the most. I just hope that the bumps she encountered in the process — Greta Gerwig and John Turturro dropped out of the project due to scheduling — won't be a problem. [Reyzando Nawara]
Release date TBD
---
Both MCU and DCU stans alike will be getting a different taste of film this year, with Tom Holland, Sebastian Stan, and Robert Pattinson welcoming us to good ol' stereotypical blood thirsty, racist, sex fiend, corrupt Appalachia. I'm unfamiliar with Antonio Campos, but a quick glance at his filmography makes me think he's a young unconventional filmmaker presenting bold, character driven authentic takes. My familiarity with author, Donald Ray Pollock, is also provisional. Nevertheless, I'm incredibly interested to see Campos' (Gyllenhaal produced) thriller adaptation of Pollock's 2011 debut novel, The Devil All the Time. A twisted tale hopefully not too dissimilar to True Detective and Southern Bastards. This hotly anticipated southern gothic-feeling 2020 film circles around God-fearing Appalachian red state cesspool southern Ohio/West Virginia, between WWII and Vietnam; America's backyard where we'll see Pattinson play a false prophet sex offender, two natural born killers with a torture porn fetish, and a sadistic ritual-obsessed WWII vet, among many other characters. A film sure to disturb the feint of heart with its grotesque, haunting, stench-riddled, sacrificial, rape and murderous prone writhe down the beaten dirt path, to unlikely redemption. After all, "Some people were born just so they could be buried." [Lee]
Release date TBD
---
Zoe Wittock's debut feature Jumbo is guaranteed to be at least interesting. Starring Portrait of a Lady on Fire's Noémie Merlant (one of the finest performances last year from a relative newcomer), the film is about a young woman with a bit of a strange love interest. In this case, she has fallen for the new ride at the amusement park she works at, an attraction called Jumbo. This romance is communicated through Jumbo's lights and sound, the ride comes to life around her and tries to tell her things. Merlant's character struggles with her love for this new construction, er, man (it is supposedly referred to as male), and tries her best to forge a connection with another person (the only other human being she is close to is her mother). It looks to be an exploration of loneliness and the unknown, a brightly colored story of strange, unknown love a la Swiss Army Man or The Shape of Water. The film is set to premiere at Sundance in the International Feature category in the coming weeks. [Sarah]
Release date TBD
---
None
I find it just as difficult to pick a most anticipated film at the start of the year as I do a favourite at the end of one, and for similar reasoning. Whereas a year-end list is compromised by the unfortunate exclusion of all the films I haven't seen, a glance ahead is crippled by a lack of knowledge of what is to come. Festival season is when my hype really starts to intensify, as this is when a large volume of unknown quantities begin to show themselves, and uncertainties start to solidify, but until then it is slim pickings. There's just nothing on the 2020 slate that I'm truly enthused for at the moment. Shane Carruth's A Modern Ocean could hardly qualify – I'm not all that confident that will see a release in within this decade, let alone the year. As it currently stands, I'll be on the sidelines, cheering on as the festival line-ups start to drop; Berlin and Cannes are where I hold my hopes for the first half of this year. If past history is anything to go by, the outlook will become much sunnier as the year ticks on. Here's hoping that some unforeseen surprises pique my interest and make it worth the wait. [Chris Barnes]
Staff Selects 1917 2020 adaptation anders danielsen lie antlers antonio campos being john malkovich bergman island brightburn cary fukunaga charlie kaufman edgar wright eternal sunshine of the spotless mind first cow greta gerwig ingmar bergman it comes at night jake gyllenhaal james bond john magaro john turturro josh boone jumbo kelly reichardt krysty wilson-cairns last night in soho mia hansen-love mia wasikowska noemie merlant olivier assayas orion lee portrait of a lady on fire richard linklater river of grass robert pattinson scott cooper sebastian stan shane carruth swiss army man synecdoche new york the fault in our stars the new mutants the shape of water tim roth tobi jones tom holland vicky krieps x-men zoe wittock